2019 China GT Sepang Round 1 Race Report

GT3 Class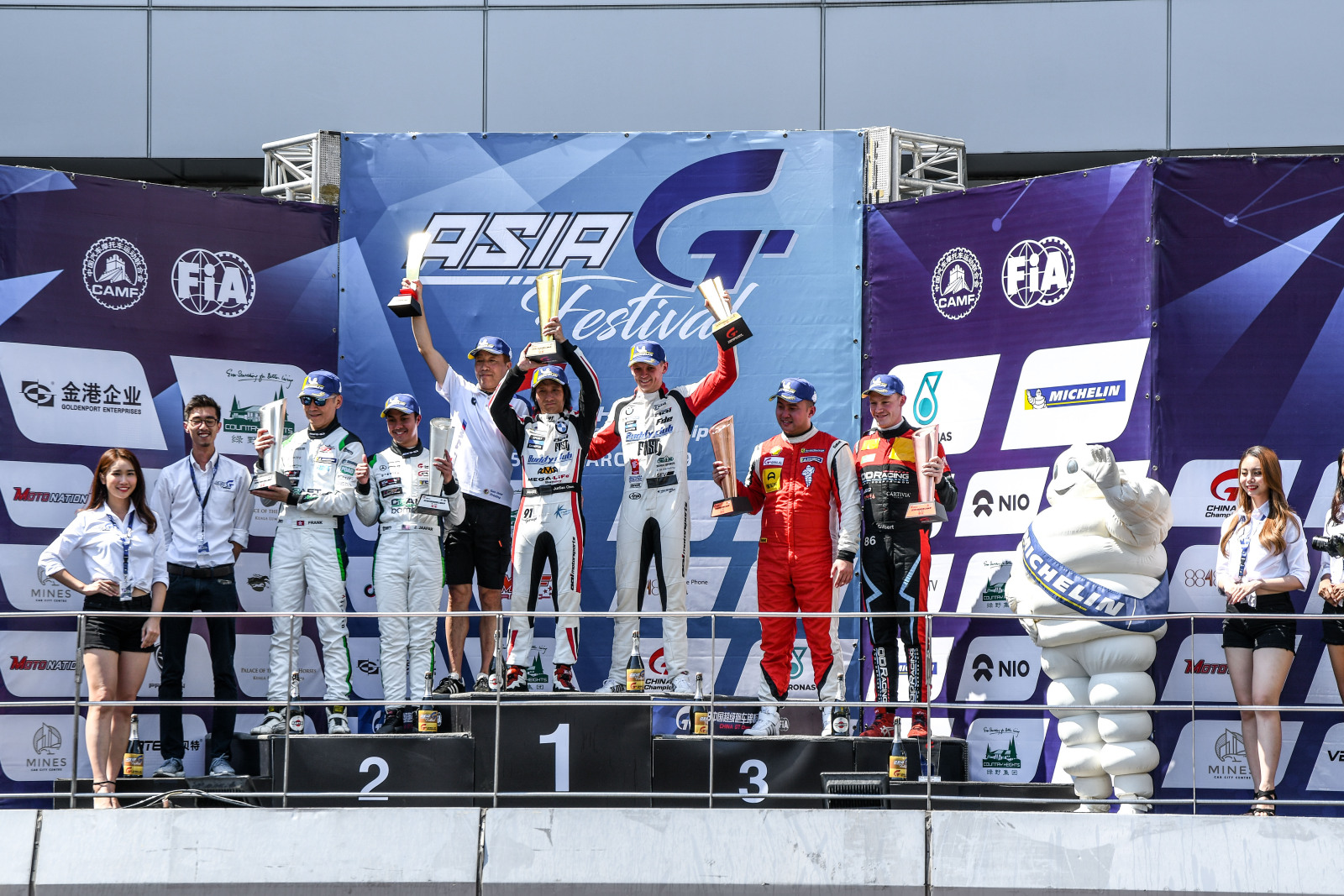 Nick Yelloly took maiden GT3 victory for FIST-Team AAI and teammate Junsan Chen in a nail-biting battle against local hero Jazeman Jaafar.

As soon as the signal was given, front row starter Alessio Picariello in the #88 Craft-Bamboo Racing AMG quickly moved to the right to cover pole-sitter Junsan Chen. He went into the lead which he held until the driver change.

Triple PCCA champion Chris van der Drift in the #911 Team JRM Porsche made a tremendous start. By the third corner he had already went from sixth to third. He then went on to overhaul Chen to take P2. FIST-Team AAI's Jody Fannin in the #91 also squeezed past his teammate and settled into third.

Fourth placed Frank Yu went for the outside gap into T1, briefly taking second; but those positions were soon lost as Chen stuck firmly to the racing line of T2, and a fast-running Van der Drift got a much better drive out of the sweeping corners and came out in front. Unable to match the pace of professional and more experienced drivers, Yu would then fall further down the order and eventually settle into sixth behind D2's Kuo Kuo Hsin.

Frank Yu defended a charging Ivan Lee in the #92 BMW but caught a break when Lee fell into the clutches of the chasing Mitch Gilbert. The Malaysian Aussie's #1 KINGS AMG encountered fuel pump issues and was forced to start from the pit-lane.

Frustratingly for Picariello, the large gap he developed soon evaporated when a safety car was deployed just a few minutes before pit window opened. Him and his teammate Jeffrey Lee would then come home with an underwhelming fifth.

However, the safety car has created the circumstance for one of the most exciting battles in China GT history between BWM factory driver Nick Yelloly, and WEC winner Jazeman Jaafar.

The two engaged in a multi-lap tussle, going wheel to wheel, bumper to bumper but always remained fair. Yelloly's BMW looked strong on the straights and Jaafar's AMG were quick into the corners. Racing in their own leagues, the two former Formula Renault 3.5 rivals were separated by merely hundreds of a second, while steadily building a 20 second gap to the final podium finisher.

Yelloly survived the relentless attack from the Jaafar in the dying moments of the race when the Malaysian suffered a puncture on the last lap. While the audience was not able to witness a nose-to-tail finish from two of GT's most accomplished drivers, Nick Yelloly went on to seal his maiden victory as a BMW factory driver in Sepang.

Reigning champion Xu Jia managed to claw back four places after taking over from Gilbert, finishing a distant third. Team JRM's Li Chao came home fourth ahead of Jeffrey Lee's #88 Craft-Bamboo AMG - the latter would have been in a much better position to fight for podium but for the mid-race safety car. FIST-Team AAI's Kevin Chen and Betty Chen finished sixth and seventh. Xtreme Motorsports' Dominic Ang and Song Bo swapped for an Audi R8 LMS last minute and completed the top eight.

"Our strategy was to keep my pace and maintain my position in my stint, and leave it with Nick to do the heavy-lifting," said Junsan Chen. "I think I've met expectations with my performance."

"I've raced Jazeman in Europe so I know he's going to be tough but fair," said Yelloly. "Battling with Jazeman had been really hard on the tyres, as I was defending and driving on the dirty side of the track a lot of the times. I started to struggle earlier than I would've liked. Great to get the a pole-to-win for FIST-Team AAI, and Junsan did a fantastic job."

#2 suffered an issue and was forced to retire after 19 laps, and the #991 followed suit five laps after.


---
GTC Class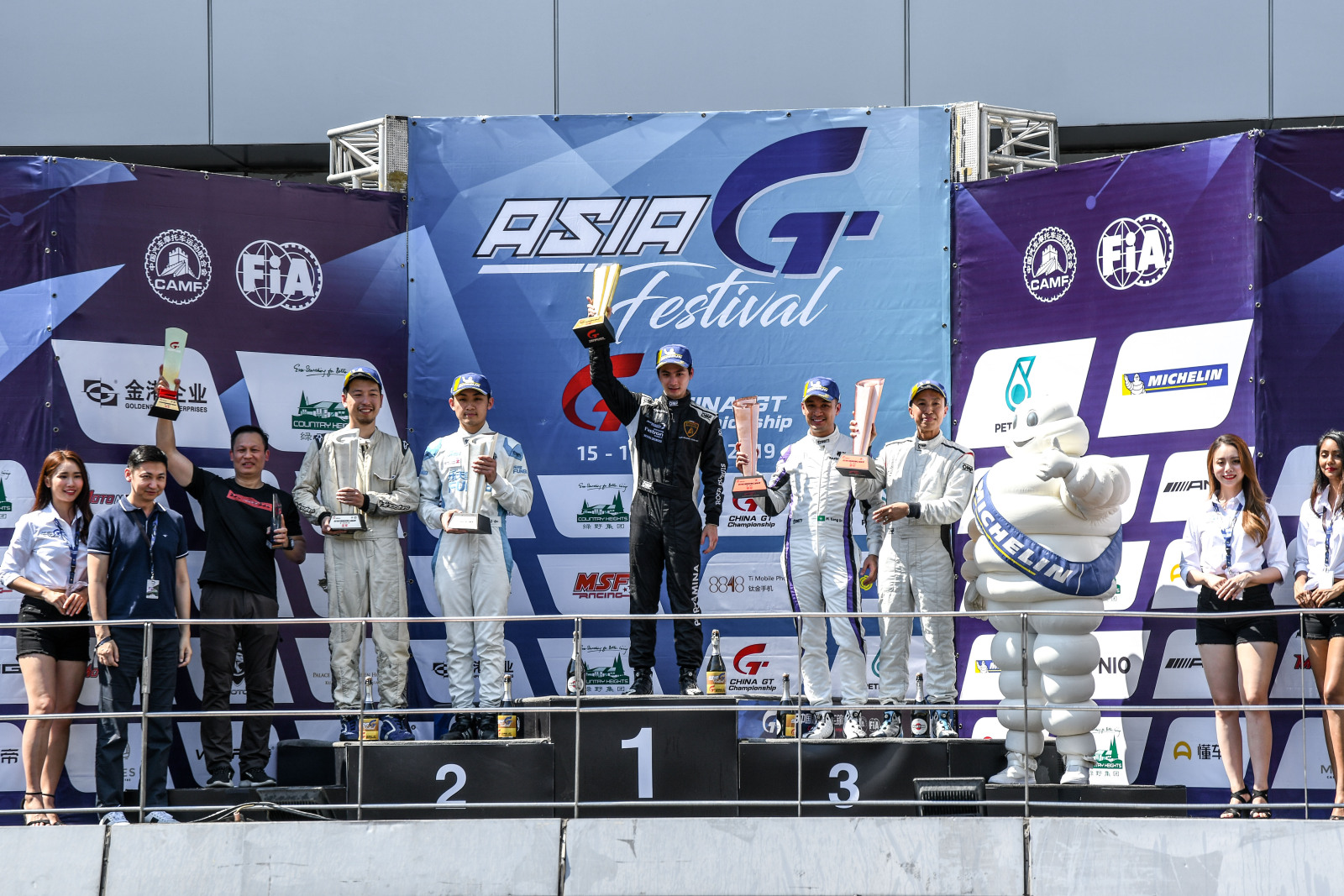 Evan Chen drove a lonely GTC race to take the chequered flag on his China GT debut. The 24-year old consistently lapped in the 2min7s and 2m8s, and finished one lap ahead of second placed YCRT of Zhang Dasheng and Zhou Bihuang.

Arrows Racing's Miguel Kong and Kelvin Wong completed the podium, ahead of YCRT's Daniel Lu and Jacky Wu who were given a drive-through penalty for a pit lane infringement.

"I had some slower GT3 cars in front of me fighting for positions. I had to slow down and keep my distant for a bit because I don't want my engine to overheat," commented Evan Chen. "The safety car disrupted my rhythm a bit but I think in the end I was pretty lucky. Tomorrow I start on pole, and that will keep things interesting."

#82 crashed out a T3 just minutes before the pit window, prompting a safety car period and its retirement. #75 pitted and tired after 22 laps.

---
GT4 Class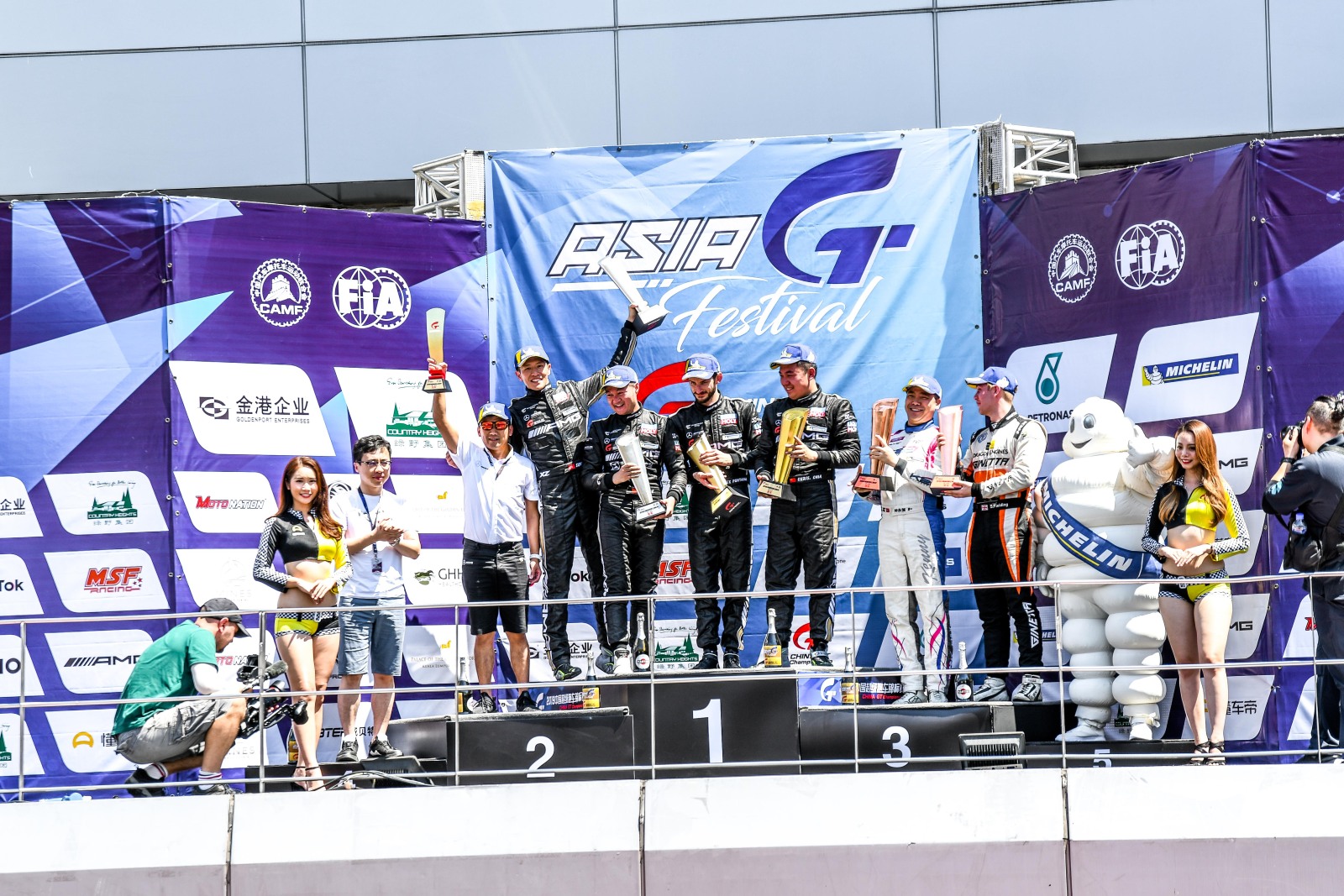 Saturday morning saw a dominant 1-2 finish for Phantom Pro Racing. Alex Fontana stormed into the lead from the get go and Chris Chia brought the #5 Mercedes AMG home with a sizeable lead.

At green, the twin Phantom Pro Mercedes soon out dragged the pole-sitting Kenny Chung in the K2C Motorsports Ginetta, with front row starter Alex Fontana leading the charge. The Swiss soon began to pull a gap, consistently lapping in the 2min14s and was at times quicker than his qualifying run on Friday.

Teammate Sunny Wong followed suit in second place and left the rest of the field battling for P3.

Kenny Chung was left to fend off charges from Liao Yang's #22 D2 AMG, Oscar Lee's #51 FIST BWM, and Zhang Fangxuan's #619 Asia Sonic Aston Martin. Despite putting up a strong defence, the Hong Kongese gentleman fell behind more experienced drivers of Liang Yang and Stanley Yang in the #618 Asia Sonic Aston Martin, and brought the car back to teammate Fielding in a commendable fifth position.

The early challenger Oscar Lee showed pace from the start, making up three positions. Unfortunately for the young Taiwanese driver, he had to retire the car after four laps after developing an issue. The #619 ran off track at T15 and could not rejoin after incident.

Most of the grid returned to the pit for driver change as soon at the pit window opened, except for leader Fontana who continued to complete four more laps and handed the AMG to teammate Chris Chia with a very comfortable margin. Thanks to Fontana's strong first stint, Chia was able to bring the car home to the team's first victory free of trouble.

Sunny Wong's teammate Rainey He brought the car back in second 17s away from Sennan Fielding's K2C Ginetta. The Briton put on a valiant drive trying to close the gap, setting fastest lap of the race with 2:14.024. However, time had run out before he could get close to the AMG's despite lapping 2-3s quicker than his rivals.

Will Bamber took the #22 D2 AMG home in fourth, ahead of the #87 Xtreme Motorsports KTM of Liu Kai and Wei Tianyi, #3 Phantom Pro AMG of Yang Xi and Yan Chuang, and #98 TopGun GT of Robert Webb and Eric Wong.

"I was mainly racing with Am drivers so my goal was to maintain a gap and get into my own rhythm," said Fontana. "We know the Ginetta is fast, so I am glad to overtake him in the first corner and build a gap. Our pace is very strong and my times were even quicker than in qualifying."

"As one of the team founders, it is a fantastic start for the team to get a 1-2 finish in its first race," said Chris Chia. "Alex brought the car back to me with a huge lead, so I only needed to manage this gap and keep it steady. My team was constantly monitoring the gap and in the end I knew I could afford to go a bit slower knowing I have the race in the bag."

#7 pitted and retired after 15 laps, and #618 ran into the gravel traps two laps after. #10 and #12 did not make a start due to damage suffered in Friday's qualifying.